---
2" Pedrick A-7 Rotary Compression Bender #3230
Condition: Good
Stock Number: 3230
---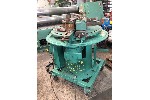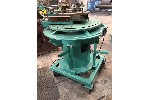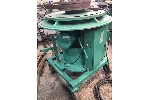 Click to view larger photo



Request a quote on stock# 3230
---
| Specification | Description |
| --- | --- |
| Pipe Capacity | 2" Sch 80 |
| Tube Capacity | 2.37" x .218 |
| Bending Moment | 28,500 in - lbs |
| Rounds, Solid | 1.75" OD |
| Spindle Diameter | 3" |
|   |   |
| Weight | 2000 lbs |
| Dimensions | 40" x 40" x 35" |
|   |   |
|   |   |
| YouTube Video: https://youtu.be/U0jaLyQm2i0 |   |

Equipped With:
Die Set for Flat Bar 1/2: x 2" Flat Bar, easy way; Caster Mounted;

Model A-7 Bending Machine
The Model A-7 is the most popular bending machine manufactured by PEDRICK. It is a heavy duty version of the Model A-5. The Model A-7's primary application is for bending 1/2 inch – 2 inch schedule 80 pipe for small bore process piping for plant maintenance and many original equipment manufacturing (OEM) applications. Bends produced on a 3D bend radius meet ASME B3 & American Petroleum Institute (API) specifications for ovality (flattening) and wall thinning. Bends produced on a 5D bend radius meet Nuclear Regulatory Commission (NRC) & United States Navy (USN) specifications.









Pacific States Machinery Co
PO Box 3038
Clackamas, OR 97015-97015
503-887-0385
sales@PacificStatesMachinery.com

Asset Sales and Marketing Software for Used and Surplus Industrial Machinery and Equipment Dealers
www.MacDB2000.com